Ronnie Wood Guest Session CD's
Bo Diddley
Live At The Ritz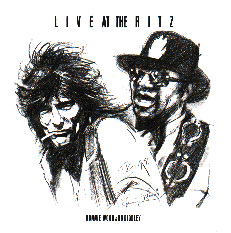 JVC Japan
Cover Art By Ronnie!
Recorded Live at The Ritz, New York, November 1987
Road Runner
I'm A Man
Crackin' Up
Hey Bo Diddley
Plynth/Water Down The Drain
Ohh La La
They Don't Make Outlaws Like They Used To
Honky Tonk Women
Money To Ronnie
Who Do You Love
Ronnie Lane "April Fool"
A 2CD Compilation on the Music of the Late Ronnie Lane
New Millennium Communications
This is truly a fan inspired effort!
Ronnie Wood Collaborations:
Richmond (Recorded in 1971)
Tonight's Number (Recorded 1972 with Mahoney's Band)
This research is Copyright 2000-2001, by Chris M. It is not to be reposted or published without prior written consent by the author. All rights reserved.
Back To Ron Wood: "Birds, Beck, & Faces"