Maple Leaf Gardens, Toronto, June 17, 1975
The Long Players
The entire Maple Leaf Gardens, Toronto, June 17, 1975, performance first surfaced on two separate titles issued by the great Stones specialty label Outsider Bird Records (OBR).
"Toronto"
(A/B)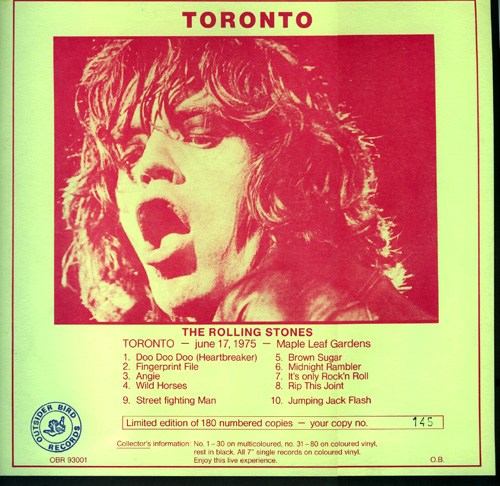 Outsider Bird Records
Heartbreaker/Fingerprint File/Angie/Wild Horses/Brown Sugar/Midnight Rambler/It's Only Rock 'n' Roll/Rip This Joint/Street Fighting Man/Jumpin' Jack Flash
Comment: This was the first release by this very cool Stones only label. The LP OBR 93001 was also reissued in a limited edition of 120 numbered copies on orange and black vinyl (minus the original 45 w/Street Fighting Man & Jumpin' Jack Flash).
(C PF FOR T./D)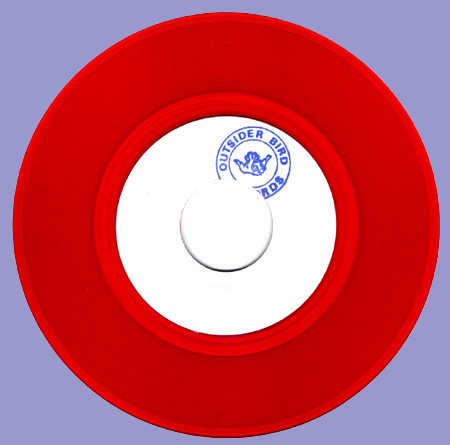 The 7" single included with the original issue of "Toronto".
"Luxury"
(No. 2-1/2/3)
Outsider Bird Records
Honky Tonk Women/All Down The Line/If You Can't Rock Me-Get Off My Cloud/Star Star/Gimme Shelter/Ain't Too Proud Too Beg/You Gotta Move/You Can't Always Get What You Want/Happy/Tumbling Dice/Luxury/That's Life (Preston)/Outta Space (Preston)
Comment: A two LP set with only three sides recorded. This is actually the first part of the show. This title was also reissued by OBR as "Special Collector's Series Volume 1" (1501/A/B).
The LP's were also copied onto a Japanese CD reissue:
"Luxury In Toronto 1975"
King Snake Records
Comment: This was a limited edition CD that has not been available since 1993.
The Compact Disc
"Toronto"
(93-CD-001-1/2)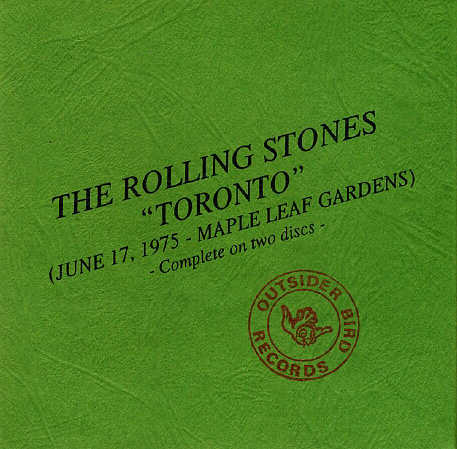 Outsider Bird Records
CD 1: Honky Tonk Women 5:24/All Down The Line 3:50/If You Can't Rock Me - Get Off My Cloud 7:58/Star Star 5:09 /Gimme Shelter 6:06/Ain't Too Proud To Beg 3:55/You Gotta Move 3:42/You Cant' Always Get What You Want 10:45/Happy 2:54 /Tumbling Dice 4:34/Luxury 4:29

CD 2: Heartbreaker 5:25/Fingerprint File 8:05/Angie 5:01/Wild Horses 6:50/That's Life 3:11/Outa Space 3:11/Brown Sugar 3:44/Midnight Rambler 10:53/It's Only Rock 'n' Roll 4:23/Rip This Joint 2:04/Street Fighting Man 3:15/Jumpin' Jack Flash 4:26

Comment: The CD's are packed in a textured green cardboard sleeve with a TMoQ like stamped title cover. The back cover is Jagger circa '75, which is the same photo used for the original OBR LP "Toronto". The CD set is a limited edition of 300 numbered copies and features a nice fold out package.
"Luxury In Toronto"
(VGP-267-1/2)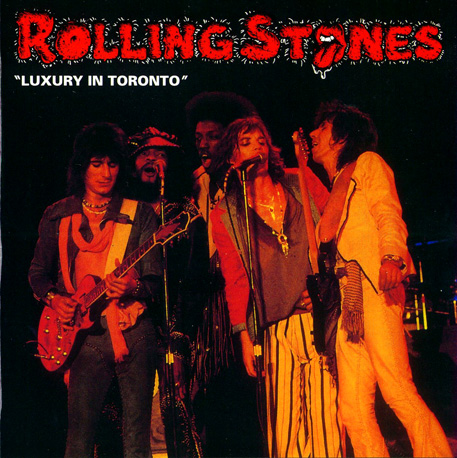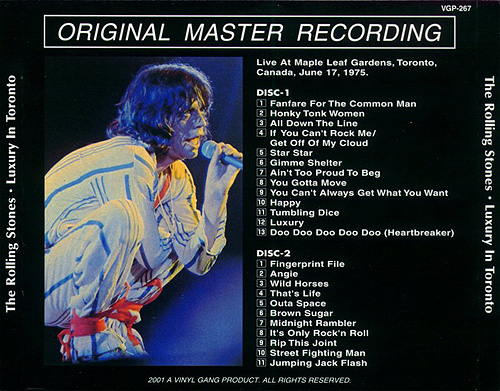 Vinyl Gang Product
CD1:
Honky Tonk Women - Extended throaty guitar intro. Jagger misses the first verse, maybe a sound problem.
All Down the Line - A button is pushed and audible tape noise gets cut-off at :18 into this track. Energetic version of the song with lots of slide fills from Ronnie.
If You Can't Rock Me/Get Off My Cloud - Ron's solo goes on for too long on the GOMC portion and Jagger starts talking over it to give the guy a clue.
Hello Toronto...all right
Star Star - The crowd reacts at 2:30 during the Steve McQueen line, which tells us that the infamous stage prop has made it's entrance.
Gimme Shelter - Typical '75 cool phaser effect version. Clocks in at around 5:20, very nice.
Ain't Too Proud To Beg - The standard run-through.
You Gotta Move - The electric lead arrangement of Fred McDowell's classic. At 3:00 the track segues into the gospel keyboard outro.
There is a tape splice here.
You Can't Always Get What You Want - The solo break quickly builds up to flutter picking and loads of resulting quarter notes. The "Human Riff" clearly remembers the nice chops from Europe '73 versions, and incorporates them nicely into the instrumental break.
Happy - A "loud" version of the song. Keith gets most of the words.
Tumbling Dice - Jagger is improvising intonation in parts of the vocal. Keyboard playing during the guitar break. Check Tokyo 1990, for the great keyboard solo during Midnight Rambler... what a travesty.
Luxury - A good live version of the song. A partial soundboard version can be found on both "Hot As Hell" and "Hottest In Hell" CD's from Buffalo 1975.
There is a tape splice here and fade out.
Heartbreaker is incorrectly listed for CD1.
CD2:
Heartbreaker - Good live version. Great rhythmical instrumental bridge. No wah-wah effect on the lead guitar.
Fingerprint File - A lengthy delay as band members change instruments. That ain't Bill Wyman playing lead lines on bass! Paranoia personified on a steady funk groove.
Angie - Keith dials up the phaser again for the '75 rendition of the well known hit single. A triangle chimes clearly after the chorus lines and at about every other measure of song (Ollie Brown no less). Preston gets a keyboard solo break as he did for Europe '73 versions of the song.
Let's get this mic. on c'mon...
Wild Horses - Tape warbles (flutters) during the beginning 10 seconds. First live performances for the 1975 tour...definitely experimental.
That's Life - Beatles session man Billy Preston gets his 15 minutes of fame. That's life you got to deal with it...Nothing From Nothing reworked and rewired.
Outa Space - The significance of these tracks is that Stones are playing backing instruments.
There is a tape splice here.
Brown Sugar - Keith misses the opening intro. of the song at around the fourth measure. Jagger puts the first verse back in at an unknown location about 1/4 of the way into the song! Preston's keyboard is left at too high a level after his solo section, so we get random squealing effects.
Midnight Rambler - I'm not sure who's causing more dissonance in part I: Preston or Wood? This song just ain't never been the same since you-know-who left the band. Wood switches to slide during part II of the song and things improve a bit. Richards' gets choppy in the middle. The song gets put out of its misery at 10:31.
It's Only Rock 'n' Roll - "I bet you think your the only woman in Toronto" Sound familar; check "Love You Live". The source song for "Love You Live".
Rip This Joint - Jagger and the band are going at two different speeds. Baby, baby, your out of... Got to give it an E for energy though.
Street Fighting Man - The guitar frenzy at the close of this song on '73 versions is replaced by Preston's keyboard in 1975.
Jumpin' Jack Flash - A convincing delivery for the show closer.
Good Night.
The sound quality is good to very good audience mono. Good guitar mix and vocal, drums and bass (bottom-end frequency response) are a missing dynamic in the sound.