"From Paris to L.A."
(YC 030/31)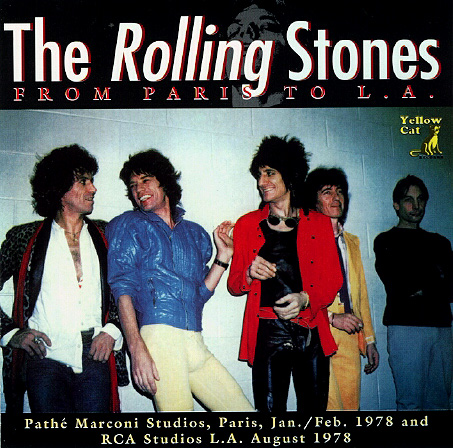 Yellow Cat Records
The color cover photo used for this disc is circa '81 and is from the same shoot as the ones used on the inside cover of "Hampton '81" on TSP and the old LP "Twenty Flight Rock". All three photo's are different shots though. This label is not to be confused with Yellow Dog.
What Gives You The Right through Petrol Gang first surfaced on "Paris Results" Outsider Bird (OBR 305-CD-016) in January, 1993. Also copied on the "Place Pigalle" series Vol. 1 on Save The Earth. The source of these tracks is Pathe Marconi Studios, Paris, January - March, 1978.
CD 1:
- What Gives You The Right (6:22): This slow to mid tempo song gets better as it goes.
- Linda Lu (4:36): Finally, "the bird" provides us the correct song for the title! Eddie Cochran style rockabilly from Roy Sharpe, 1958.
- Dancing Girls (4:08): Incorrectly titled as Linda Lu for many years. First surfaced on the classic "Lonely at Top" LP on Nondon Records in the early eighties. A great riff. From a tape source, but unfortunately this one has bad speed problems. Very disappointing, the song is wrecked.
- Lonely at the Top (4:40): Stones version, Jagger of course later reworked and released it on "She's The Boss". More tape speed problems.
- So Young (2:54): Early raw version of the song later released on the Love Is Strong single from Holland (892507 2). The lead guitar is down in the mix. Ends abruptly.
- Some People Tell Me (4:47): Jagger growls his way through the song.
- You Win Again (3:23): Country style ballad:
The news is out
All over town
That you been seen
Out runnin' 'round
I know that I
Could-leave her then
I just can't go on
You win again
- Do You Get Enough? (5:08): A calypso style bore. One of the repeating lyrical lines is "Lucky In Love", which may have been the source of the idea for the song of the same title found on "She's The Boss".
- Do You Think I Really Care? (6:05): A.k.a. Need a Yellow Cab. First surfaced on the classic simultaneous releases "Accidents May Happen" on Eva Records and "The Paris Rehearsals" also on Eva in the early eighties. A faster tempo country style song with an authentic dry Tele sound.
- Everlasting is My Love (4:01): There has been a ghost vocal/instrumental in circulation with this title for many years, but finally a version with the title clearly vocalized in the song.
- I Need You (3:32): First surfaced in tape circles along with instrumental versions of Shattered shortly after the release of the "Some Girls" album! A keyboard track with Mick and Keith sharing the vocal. Vinyl titles soon followed including "Paris Rehearsals (for Some Girls)" on Whoose Records with the negative photo shot that was used for a '78 Relix mag. issue on the band. MJ: Was this cover photo the inspiration for the "heat shots" that were eventually used on the "Emotional Rescue" album?
- No Spare Parts (5:59): More country music.
- Muck Spreading (3:05): An instrumental sort of similar to Cellophane Trousers.
- Petrol Gang (3:38): A great boogie piano/vocal riff with just Ian Stewart and Jagger working out the song. At one point Jagger calls out to Stu that his tempo is "two miles behind" his vocal. Stu proceeds to play at the same pace!
Please Mr. President say it isn't so
I don't have to sell my Cadillac that I just paid for...I just paid for
The following two tracks on this disc begin a different source and studio setting. RCA Studio's LA, August 1978. These recordings first surfaced on "The Harder They Come" on Idol Mind Productions (IMP-CD 001/002). Also copied on the CD "One Night With a Tallahassee Lassie" on the Extremely Rare label (EXR 019/020).
- My First Plea I (5:28): A Jimmy Reed blues groove complete with a Reed style harp. Richards on vocal.
- My First Plea II (3:48): More of the above, but with a slightly slower and more pronounced tempo.
- Summer Romance (5:22): Ironically, there was an unauthorized LP released with the title "A Summer Romance With The Rolling Stones" two years before the song's June, 1980 release on "Emotional Rescue"! First recorded at Pathe Marconi in early '78, and rehearsed during sessions for the Saturday Night Live TV appearance, which may be the source for title leak.
The source of all the following tracks is RCA Studios LA, August 1978.
CD2:
- Knee Trembler (5:31): A keyboard and horn instrumental.
- What Gives You The Right I (5:40): A slower keyboard track with a subdued Jagger vocal.
- Jimmy Reed Jam (6:50): An instrumental. The title says it all.
- One Night (2:50): There is a ghost vocal on this one.
- What Gives You The Right II (5:14): Take II
- My First Plea III (4:13): More takes of the Jimmy Reed track. Keith again on vocal.
- My First Plea IV (4:50):
- Tallahassee Lassie (2:33): 50's style rockabilly. Unfortunately, Jagger's vocal is down in the mix.
- Your Angel Steps Out Of Heaven (3:05): This is one of those great songs taught to Keith by Gram Parsons. Gram's version of the song is found on The Flying Burrito Brothers CD "Dim Lights, Thick Smoke and Loud, Loud Music" on the French Edsel Label.
- The Harder They Come (3:38): Officially released on Keith's first solo effort as the B-side to Run Rudolph Run in March, 1979. There is an EMI Holland version of the single that came with a great green shade picture sleeve of Keith. This is a cover of a Jimmy Cliff song. Cliff's version can be heard on "The Harder They Come" movie soundtrack CD on Mango Records. A pioneering reggae recording, perhaps only dated by The Tokens, The Lion Sleeps Tonight. Jagger was the first Stone to release a solo record with the Memo From Turner (b/w Natural Magic) single, and it's appearance on the "Performance" soundtrack LP in September, 1970.
- Serious (1:36): A syncopated reggae number with Keith on vocal.
- Not The Way to Go I (9:32): A faster paced Jagger vocal.
- Not The Way to Go II (7:04): Take II
- Where The Boys Go I(3:47): Early Jagger/Richards working vocal minus the amusing cockney accent and women back-up singers.
- Where The Boys Go II (3:52): Keith leads off the vocal on this take.
- I'll Let You Know (6:56): This great instrumental first surfaced on the classic "(In Tune With) Jam" LP from the early eighties. There is something about this track that takes me to a different time and place. The level problem is corrected on this tape source. This track also shows up on the Faces unauthorized CD titled "Ooh La La Demos" (TFR-16972) on track 1. It is listed simply as "Instrumental". The OLLD version has speed/pitch problems.
All tracks in very good to excellent stereo (note a couple of speed problems). The tracks with speed problems can now be found at the correct pitch and from tape sources on recent "Lonely At The Top" releases from both Vinyl Gang (VGP-057) and The Swingin Pig (TSP-CD-199) labels. Both with bonus tracks in addition to the original LP set list.