Mick Taylor - "Session Musician 1990's"
Mick Taylor plays the solo at the instrumental ending of Classic Rot by "Dramarama".
Carla Olson & Mick Taylor "Live"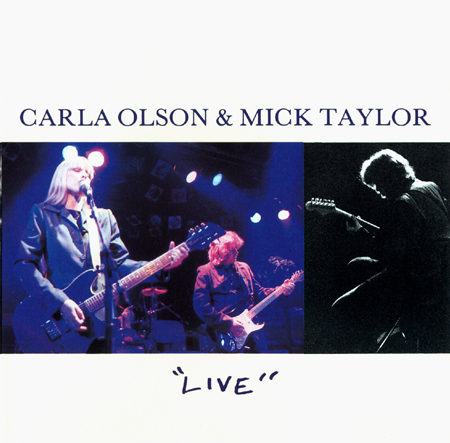 Demon Records, 1990 (French Import)
Live at The Roxy Theater, Hollywood, March 4, 1990
Who Put The Sting On The Honeybee? 5:12/Slow Rollin' Train 7:52/Trying To Hold On 5:27/Rubies And Diamonds 5:27/See The Light 7:35/You Can't Move In 4:22/Broken Hands 4:43/Sway 6:57/Hartley Quits 6:29/Midnight Mission 6:00/Silver Train 6:40

Comment: Mick Taylor does some "wah-wah" burning guitar playing on Sway !
Rakatan "Better Than That"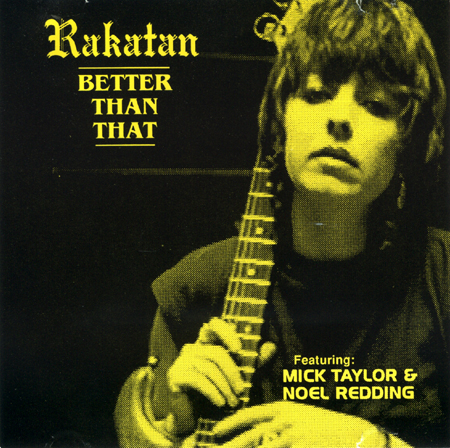 Auriga Records, 1990
(Before The Monsoon) Better Than That 6:15/(The Mountains) Song For Merlin 5:41/(The Tropics) Give Her A Reason 6:44/(The Veldt) He Can Stay 5:01/(The Sea) Even Though They Know 4:51/(The Fire) Andy 3:42/(The Horse) Steer Clear 3:00/(The Desert) When You Want It 3:32/(The Leopard) Show You 3:32/(The Meadow) Then I'm Sure You'll See 4:07

Comment: Mick plays well, but the vocals are another story.
"Guitar Speak III"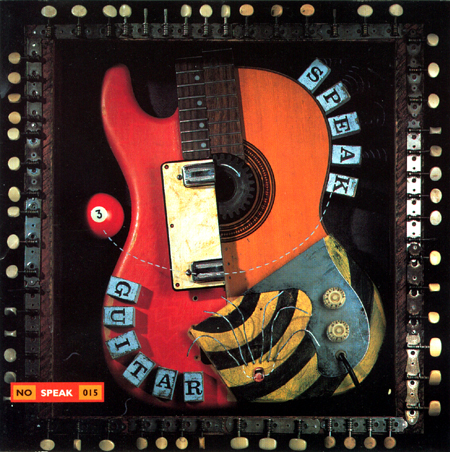 I.R.S. Records, 1991
Crystal Ball 3:49 Nils Lofgren/A Life In Movies 4:00 Steve Hackett/The 62 3:49 Tom Verlaine/No Water In Hell 4:59/Still Life With A Dobro 5:25 Adrian Belew/That Boy's Evil 3:58 Gary Myrick /Red Shoes 5:19 Mick Taylor/Otis 3:19 Dominic Miller/Eye Of The Needle 2:59 Robert Fripp & The League Of The Crafty Guitarists/Morning Rush Hour 3:18 Steve Morse

Comment: Mick plays on the instrumental Red Shoes. The track includes Kuma Harada (Bass), Max Middleton(Keyboards), & Mick Driscoll (Drums).
Carla Olson & Mick Taylor "Too Hot For Snakes"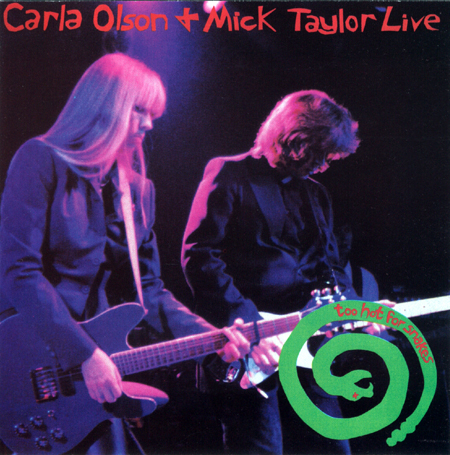 Razor & Tie, 1991
Comment: See "Live" on Demon Records for track information.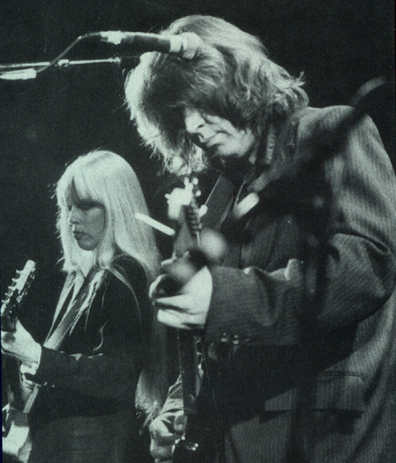 Dramarama "Vinyl"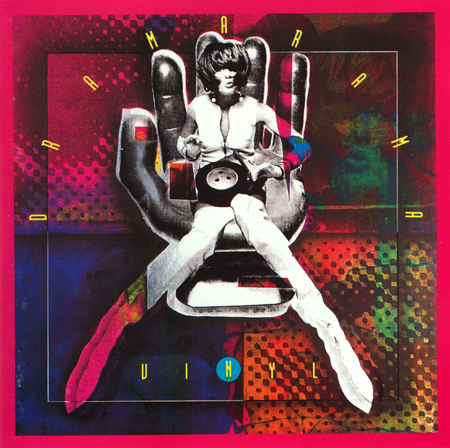 Elektra, 1991
Until The Next Time 3:30/Haven't Got A Clue 4:08/What Are We Gonna Do? 3:59/Classic Rot 4:26/Memo From Turner 3:47/Train Going Backwards 6:18/I've Got Spies 4:34/In Quiet Rooms 2:40/Ain't It The Truth 3:51/Tiny Candles 6:33/(I'd Like To) Volunteer, Please 5:51

Comment: Mick plays on Classic Rot. This Is An Excellent Record!
Bob Dylan "the bootleg series volumes 1-3"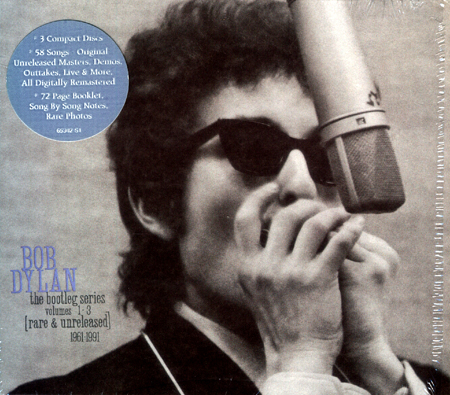 Columbia, 1991
Comment: Mick plays on: Someone's Got A Hold of My Heart, Tell Me, Lord Protect My Child, Foot Of Pride.
Coupe De Villes "Burning Blues"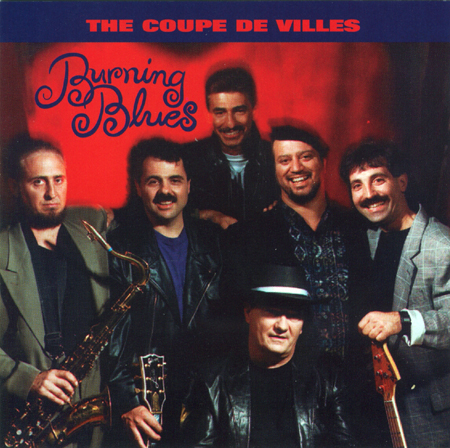 After Hours Records, 1992
Sweet Sweet Man 4:24/The Crush 3:44/So Many Reasons 7:35/Burning 4:54/Just Give Me Some Time 4:56/Someone's Got It Out For Me 4:34/Good Grief And Gravy 4:13/Tuff Life 4:31/Geraldine 3:40/Mean Streak 6:10/Time For You To Pay 3:35

Comment: Mick plays on So Many Reasons.
Tonky Blues Band "Piedra Rodante"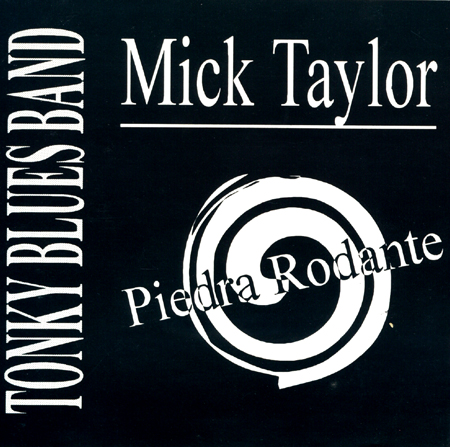 Musica Maestro, 1992
Killing floor 3:41/Blues runs down my leg 4:11/Tronco de Madrid 3:21/Sky is crying 8:55/Steady rolling man 6:41/I can't be satisfied 4:01/Jam be 4 3:15/Good morning little school girl 4:25/I'll play the blues for you 6:36/Look watcha done 3:28/Steepin out 2:34/Tributo a los viejos 2:34

John McVie's "Gotta Band" with Lola Thomas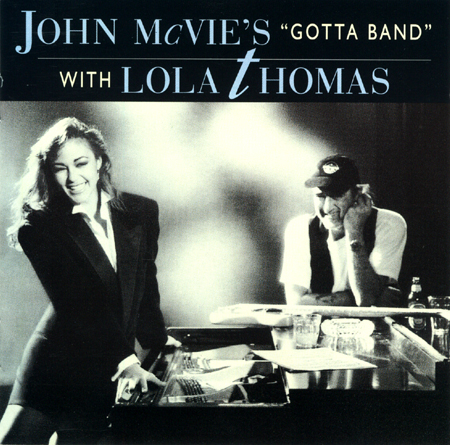 Warner Music, 1992 (German Import)
Evidence 3:50/Now I Know 4:06/Lost What You Had 3:32/Shot Down By Love 4:00/Step Aside 3:51/You Left Me Lonely 5:15/The Bigger The Love 3:50/All That I Was Guilty Of... 3:26/One More Time With Feeling 4:57/The Way I Do 3:40

Comment: Of course, Taylor and McVie are "connected" by John Mayall's "Bluesbreakers" and not Fleetwood Mac :-)
Elliott Murphy "Diamonds by the Yard"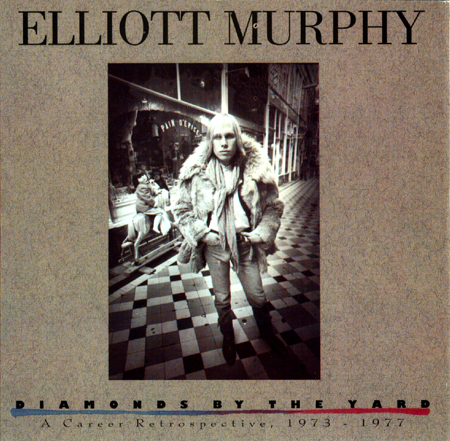 Razor & Tie, 1992
Last Of The Rock Stars 3:42/White Middle Class Blues 3:01/Hometown 4:33/Poise 'n Pen 2:38/History 3:05/The Love Song Of Eva Braun 4:06/Visions Of The Night 3:46/Diamonds By The Yard 6:57/Isadora's Dancers 4:55/You Never Know What You're In For 4:19/Drive All Night 3:37/Just A Story From America 2:32/Rock Ballad 5:04/Anastasia 5:11/Caught Short In The Long Run 4:51/Euro-Tour 3:56/Change Will Come 4:30

Comment: A career retrospective disc. Taylor plays on Rock Ballad from the 1977 LP "Just A Story From America".
Don Covay Tribute "Back To The Streets"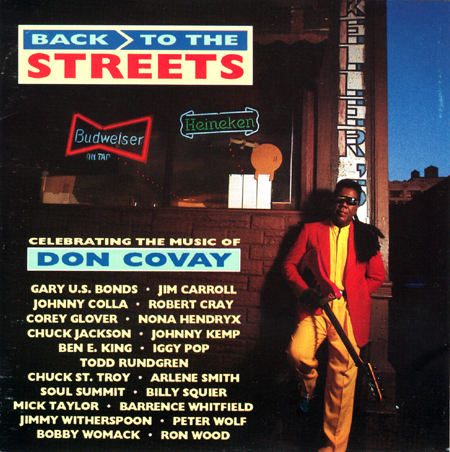 Shanachie Entertainment, 1993
Chain Of Fools 3:28 Ron Wood/He Don't Know 4:19 Robert Cray/Checkin' Out 5:42 Bobby Womack/Sookie Sookie 3:12 Iggy Pop/I Stole Some Love 3:30 Peter Wolf/Letter Full Of Tears 2:59 Arlene Smith & Johnny Colla/Three Time Loser 2:58 Corey Glover/Victims 5:46 Ben E. King/Long Tall Shorty 2:51 Jim Carroll/Mercy Mercy 3:17 Todd Rundgren, Gary U.S. Bonds, & Chuck Jackson/We Can't Make It No More 4:29 Nona Hendryx/Pony Time 2:48 Barrence Whitfield/See Saw 3:08 Billy Squier/Somebody's Enjoying My Home 4:44 Mick Taylor & Chuck St. Troy/Thunder 4:02 Jimmy Witherspoon/Back To The Streets 4:31 Soul Summit

Comment: Mick plays on Somebody's Enjoying My Home (With Chuck St. Troy).
Carla Olson "Within An Ace"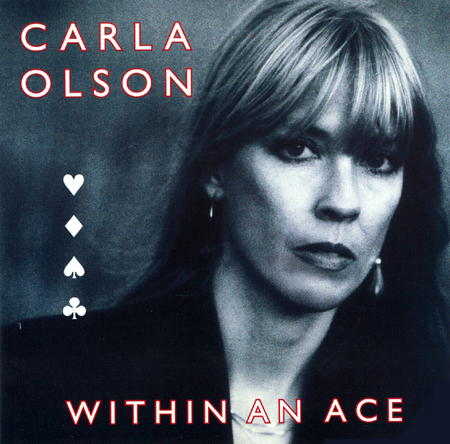 Watermellon Records, 1993
Justice 5:29/Dark Horses 4:31/Why Did You Stop 7:15/World Of Pain 5:21/Fortune 4:30/Within An Ace 5:50/Man Once Loved 4:35/How Many Days 5:10/Rescue Fantasy 5:09/Is The Lady Gone 5:40
Comment: Mick plays on: Justice, World Of Pain, Fortune, Within An Ace, How Many Days, Rescue Fantasy (Co-Writer), & Is The Lady Gone.
Gerry Groom "Once In A Blue Moon"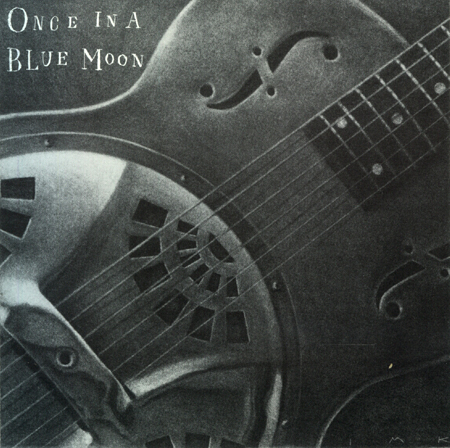 Shattered Music, 1993 (Recorded 1991)
Can't Be Satisfied 3:24/When You Got A Friend 3:37 /Coastin' Home 3:59 /Mick's Jam 8:02/Music Teacher 4:49/Hip Shake 4:46/Long Distance Call 9:17/Suzie Q 3:21/Louisiana Blues 5:04/Spots For Days 4:26/Red Rooster 7:19/Can't Be Satisfied 4:05

Comment: Mick plays on: Coastin' Home, Mick's Jam, Music Teacher, Suzie Q, I Can't Be Satisfied (4:05 version).
Eric Sirkel (not really Mick Taylor) "Living In The Laid Back"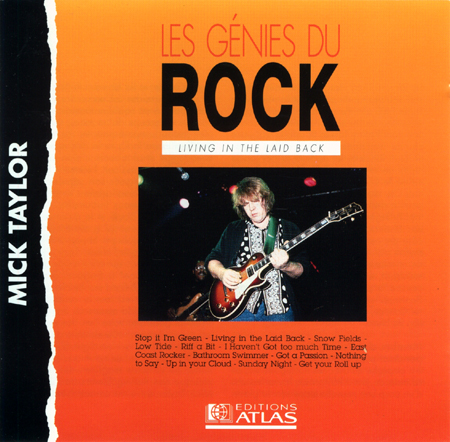 Editions Atlas, France, 1994
Stop It I'm Green 2:51/Living In The Laid Back 2:46/Snow Fields 2:30/Low Tide 1:31/Riff A Bit 2:48/I Haven't Got Too Much Time 3:41/East Coast Rocker 3:52/Bathroom Swimmer 3:09/Got A Passion 2:54/Nothing To Say 2:55/Up In Your Cloud 3:03/Sunday Night 3:21/Get Your Roll Up 4:18 Mick Taylor

Comment: Mick's name and likeness used to sell Eric Sirkel songs. This is a CD reissue of the 1976 LP "Sirkel & Co.". He does play on the record.
Bob Dylan "Bob Dylan's Greatest Hits Volume 3"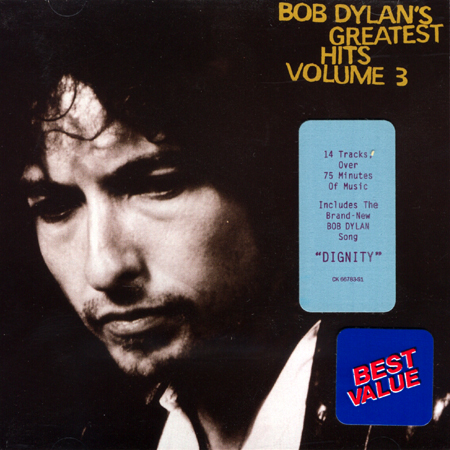 Columbia, 1994
Tangled Up In Blue 5:42/Changing Of The Guard 6:37/The Groom's Still Waiting At The Altar 4:04/Hurricane 8:34/Forever Young 4:58/Jokerman 6:17/Dignity 5:58/Silvio 3:08/Ring Them Bells 3:02/Gotta Serve Somebody 5:26/Series Of Dreams 5:53/Brownsville Girl 11:05/Under The Red Sky 4:10/Knockin' On Heaven's Door 2:30

Comment: Jokerman is from the 1983 release "Infidels".
Percy Sledge "Blue Night"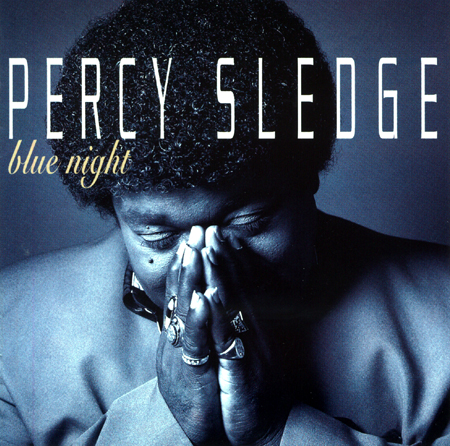 Sky Ranch Records / Virgin France, 1994
You Got Away With Love 4:16/Love Come Knockin' 3:42/Why Did You Stop 4:40/I Wish It Would Rain 3:12/Blue Night 4:48/These Ain't Raindrops 2:48/Your Love Will Save The World 3:47/First You Cry 3:56/Goin' Home 3:39/The Grand Boulevard 5:40/I've Got Dreams To Remember 4:09

Comment: Mick is lead guitar on Your Love Will Save The World & slide guitar on Goin' Home.
Chesterfield Kings "Let's Go Get Stoned"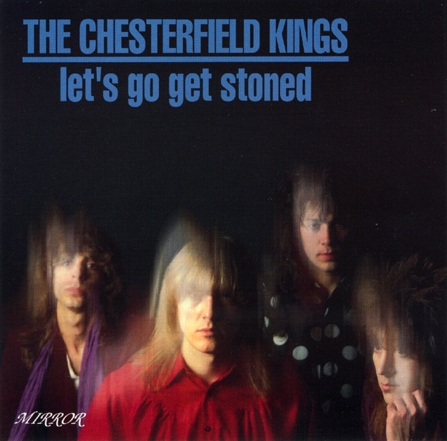 Mirror Records Inc., Mirror 19, USA, 1994
Johnny Volume 2:17/Street Fighting Man 3:25/Drunkhouse 2:54/It's Getting Harder All The Time 3:37/I'd Rather Be Dead 3:48/Can't Believe It 3:05/Rock N' Roll Murder 2:53/Sing Me Back Home 3:25/Long Ago, Far Away 3:52/I'm Not Talking 2:29/One Foot In The Graveyard 3:31/Worried Life Blues 2:50/I'm So Confused, Baby 4:34/Cannonballs For Christmas 1:12
Comment: Recorded at GFI Studios, Canada. Mick Taylor plays lead guitar on I'm Not Talking.
Carla Olson "Reap The Whirlwind"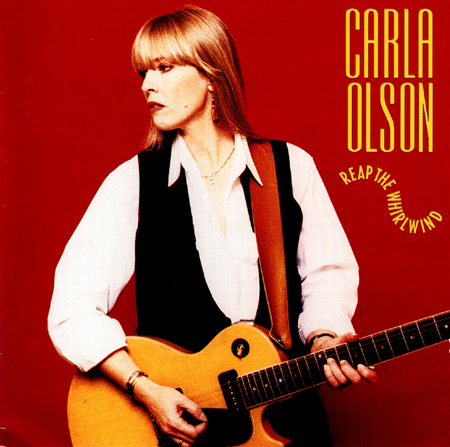 Watermellon Records, 1994
Reap The Whirlwind 5:55/Playing With Life 3:47/Ups & Downs 3:46/Rock Of Ages 6:29/Kinderwars 4:12/Not A Soul To Remember 3:35/Honest As Daylight 4:55/Bill, Bills And More Bills 5:28/Twine Time 4:12

Comment: Mick plays on: Reap The Whirlwind, Kinderwars, & Honest As Daylight.
Peter Schleicher "Steinzeit"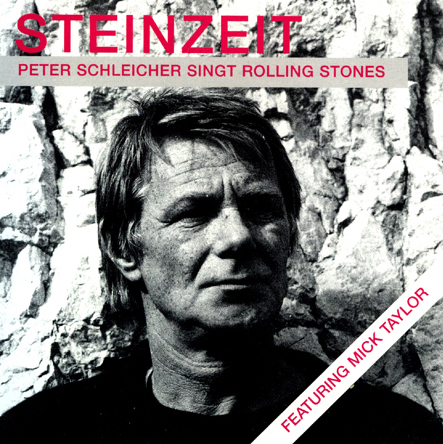 VM-Records, 1994 (Austrian Import)
Die Beisl Hua (Honky Tonk Women) 3:02/Des geht net eine bei mir (Get Off Of My Cloud) 3:08/Man rennt net min Kopf durch die Wand (You Can't Always Get What You Want) 4:11/Heit gemma ham mitanander (Let's Spend The Night Together) 3:12/Der Teufel in euch (Sympathy For The Devil) 4:49/Der letzte Fetzentandler von Wien (Jumpin' Jack Flash) 3:13/Der Tod vor der Tür (Gimme Shelter) 3:28/Des kennt unser End sein (The Last Time) 3:26/Hart auf hart (We Love You) 3:48/Salz der Erde (Salt Of The Earth) 3:33

Comments: Songs sung by Peter auf deutsch. Good band.
"Guitare Story Vol. 1"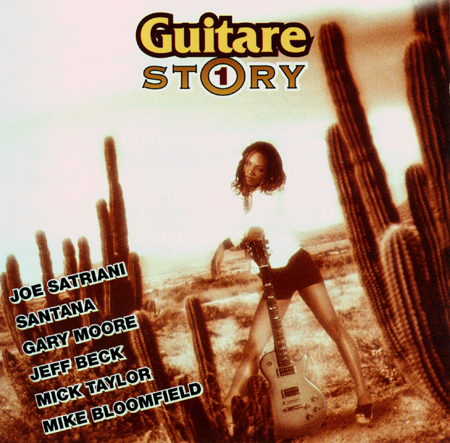 Versailles/Sony Entertainment, 1994
Pipeline 3:02 Stevie Ray Vaughan/Screamin' Diz Busters 7:03 Blue Oyster Club/Satch Boogie 3:16 Joe Satriani/Giddy-Up 5:19 Mick Taylor/Mary Ann 5:33 Mike Bloomfield & Al Cooper/San-Ho-Zay 3:07 Chickenshack/I've Got The Rock 'n' Rolls Again 4:39 Joe Perry/I Loved Another Woman 2:59 Fleetwood Mac/Homeward Strut 3:57 Tommy Bolin/Europa (Earth's Cry Heaven's Smile) 5:02 Santana/Sail Across The Mountain 7:01 Gary Moore/The Final Peace 3:35 Jeff Beck

Comment: A compilation containing Giddy Up from Mick's 1979 self titled debute LP.
Anthony Thistlewaite "Cartwheels"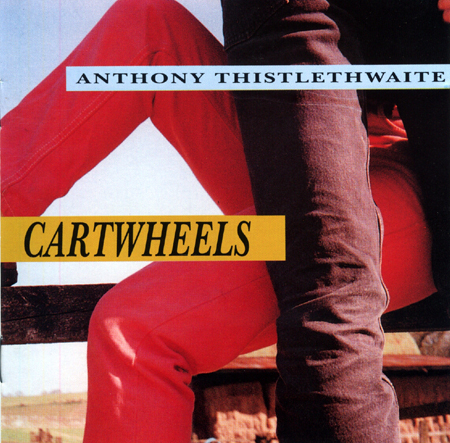 Rolling Acre Records, ACRE 002 CD, 1994
Cartwheels 7:02/Red Jeans 2:36/Farming The Right Acres 2:50/Migrating Bird 4:27/Cherry Dress 4:38/The Tower Of Love 4:58/Marie Dreslerova 3:19/Somewhere Across The Water 3:51/Communicating 4:08/Atlas (The Wheat From The Chaff) 3:24/Back To The Land 3:51

Comment: Mick plays guitar on: Cartwheels, Farming The Right Acres, Migrating Bird, & Atlas.
Finis Tasby "People Don't Care"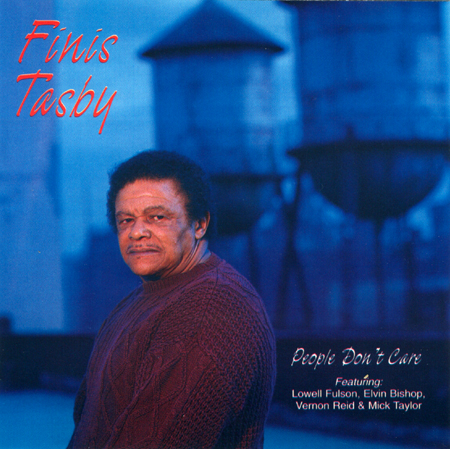 Shanachie, 1995
People Don't Care 3:56/Rocking With The Blues 3:19/Just A Kiss 4:56/Gotta Draw The Line 3:45/Po' Man Blues 4:58/Drinkin' Bad Whiskey 4:09/Gonna Miss Your Love 4:14/Find Something Else To Do 3:58/You Don't Have To Worry 3:41/Break Away 4:27

Comment: Mick plays on: You Don't Have To Worry
Carla Olson "Wave Of The Hand"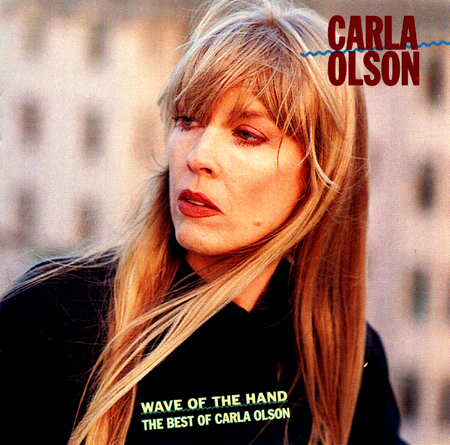 Watermellon Records, 1995
Wave Of The Hand 4:03/I'm Trying 5:42/Special 5:09/Kinderwars 4:11/Honest As Daylight 4:56/Within An Ace 5:50/Justice 5:28/Slow Rollin' Train 4:10/Gotta Get Back Home 4:24 (w/The Textones)/Cedar Creek 6:10 (w/The Textones)/Every Angel In Heaven 4:00 (w/Gene Clark)/Del Gato 4:57 (w/Gene Clark)/Midnight Mission 4:16 (w/The Textones)/Clean Cut Kid 5:20 (w/The Textones)/Reason To Leave 2:47 (w/The Textones)/I Can't Fight It 3:11(w/The Textones)

Comment: Mick plays on: Kinderwars, Honest As Daylight, Within An Ace, & Justice.
Tom Newman "Fine Old Tom"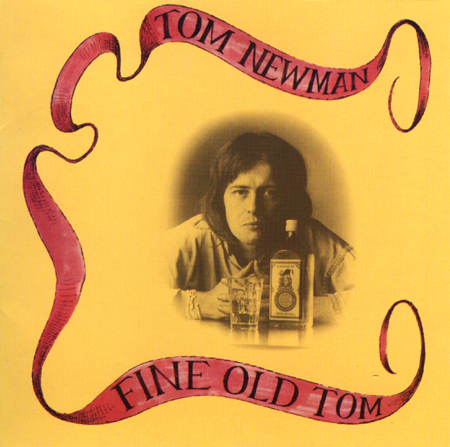 Voiceprint Records, 1995 (Austrian Import)
Sad Sing 2:25/Nursery Rhyme 2:42/Song For SP 4:12/Superman 2:57/Alison Says 2:35/Day Of The Percherons 3:35/Suzie 3:35/Poor Bill 3:26/Will You Be Mine In The Morning 3:33/Ma Song 2:07/Penny's Whistle Boogie 3:41/She Said She Said 2:30/Ma Song (Demo) 2:30/Superman (Demo) 3:34/Oh Susie (Demo) 3:41/Poor Bill (Demo) 3:43/She Said She Said (Demo) 2:20/Sweet 16 2:29/Ham 'n Eggs 3:26/Day Of The Percherons (Demo) 2:29/Sad Sing (Demo) 2:12/Have Mercy On My Eyes 4:21

Comment: Mick sings backing vocal on Day Of Percherons.
Juicy Lucy "Blue Thunder"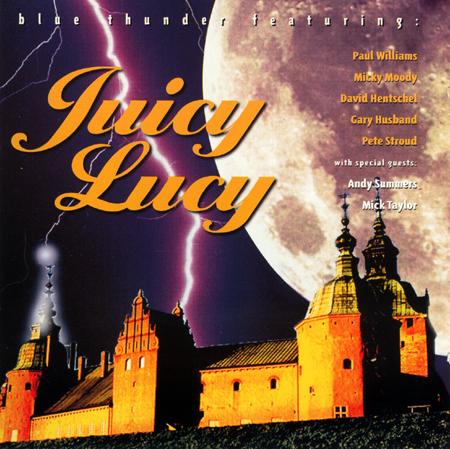 Outer Music, 1996
Running Blue 4:28/Win Or Lose 5:15/Going Back 5:56/Gin House 3:57/Live With My Blues 5:36/Fool To Yourself 4:49/Woman Of Mine 5:01/Give Me The News 4:26/Circle Of Light 5:56/Lay Down Your Arms 3:37

Comment: Mick plays on the track Going Back.
Walkie Talkie "School Yard Rhymes"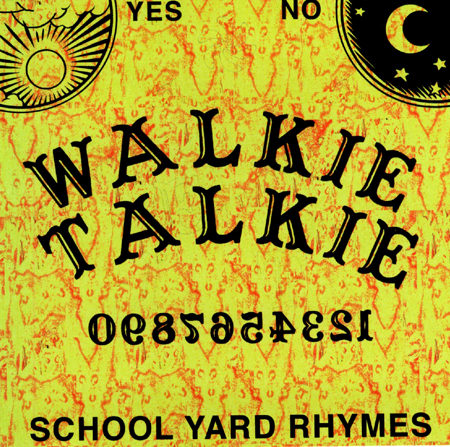 Laundry Room Records, 1996
Worldwide Losses 3:44/Love In Arms 3:41 (M. Taylor writing credit w/Jim Lacey Baker)/Country Life 3:11/Bad Hearoes 4:43/When The Blackbird Sings 3:22/Nightmares 4:11/Lost At Sea 5:30/Save Me 5:33/So Misunderstood 3:50

Sasha Gracanin "Shadow Man"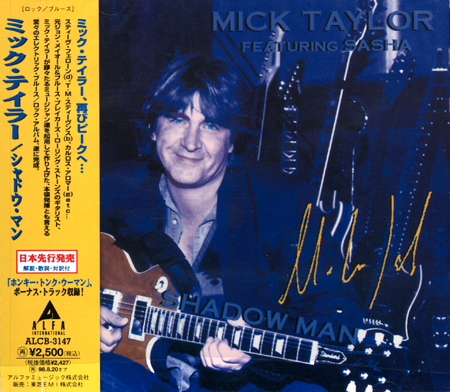 Savebone Music, 1996
The 1996 release featuring the guitar playing virtuosity of Mick Taylor. First off, I have only been able to locate this title as a Japanese import. It features 11 tracks and is on the Shavebone label (order number and matrix: ALCB-3147). A photo of Taylor with a Gibson Les Paul Standard graces the inlay cover of the CD, and there are many pictures in the booklet that comes with the disc. There is also a black and white booklet inserted in the package that looks to be a short biography on Taylor with lyrics to the tracks. It's written in Japanese, so I'm not certain (my Kanji, Hiragana, and Katakana, are a bit weak these days).
The packaging would lead you to believe that this might be the long awaited studio follow-up by Taylor....but it isn't. It's Sasha Gracanin's record and features Taylor in his familiar role as a session guitarist. Other musicians are:
T.M. Stevens - Bass
Steve Perrone - Drums & Percussion
"Borko" - Organ & Piano
Robin Clark, Vivian Cherry, Tawatha Agee - Backing Vocals
Lenny Pickett, Paul Alex, Earl Gardner - Horns
First the generalities...then the specifics:
- The disc can generally be described "pop" rhythm and blues
- There is a fare amount of production, including lots of horn and back-up vocals
- Gracanin sounds like a trained vocalist (noted in his vibrato), but his range is limited. His vocal tone is akin to Dr. John.
A track by track commentary (with a Taylor bias of course):
Turn Off The Light (3:29): An up tempo tune with horns in the chorus and back-up vocalists in full swing. It features an inspired Taylor solo, that is only the beginning of a entire CD worth of very credible playing by "the man".
Hurt (3:25): A slow bluesy track. Taylor noodles expressive solos and arpeggios throughout the track (he's in the right channel). The solo is clean the tone is signature Taylor.
Just Another Heartache (3:55): Sort of a funk number. Taylor plays with a noticeable reverb effect . It sounds like he is switching from playing double fingered octaves to lead lines.
Shadow Woman (3:25): A keyboard and harp dominated track with mean short solos filling the "center" of the mix.
Don't Cry Little Woman (3:59): Taylor burns up the opening of the track. Clean slide with a big distorted sound. Taylor's solo is reminiscent of his live work with Dylan.
Honky Tonk Women (3:18): This may as well be Country Honk, because it only bares a slight resemblance to the Stones classic that Taylor helped transform into a classic rocker. Let just say "poetic license" has been taken with the lyrics, and the heavy use of back-up singers make the thing sound like a gospel revival. Taylor plays a silky smooth slide solo.
Shattered (6:02): A slow dramatic track. Gracanin come through on this one. Taylor plays a long slow solo that highlights the guy's ability to make the notes stick with his combination of vibrato and sustain. The second solo features his signature switch toggling (reference Jumpin' Jack Flash, MSG July 26, 1972), pull offs, and rich tone.
Happy Man (3:47): Haven't I heard this song already? Lot's of horns and back-up vox. Taylor plays aggressive lead guitar the way he used to!
Don't Wait Too Long (3:17): A bluesy gospel call and response track. Taylor's
guitar tone is alive and well!
This Night (3:37): Gracanin's vocal has reverb that give the track some depth. Taylor plays a catchy solo and is heard soloing in the closing minutes of the song. I think they missed the ending.
Someday (4:17): Listed as a bonus track. Amazing solo at the close of the song. Taylor plays the notes fast and clean.
Taylor plays well on every track, which for me is worth the price of admission.
"Knights Of The Blues Table"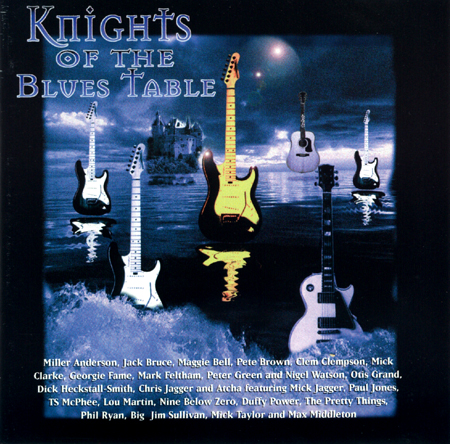 Viceroy Music, 1997
(Compilation Disc)
Send for Me 3:30 Jack Bruce/If You Live 4:22 Georgie Fame/Go Down, Sunshine 4:54 Duffy Power/Racketeer's Blues 3:52 Chris Jagger/Rocks in My Bed 3:29 Pete Brown - Phil Ryan/Don't Let Me Be Misunderstood 3:47 Miller Anderson/Blind Man 4:55 Maggie Bell - Big Jim Sullivan/Traveling Riverside Blues 3:58 Peter Green - Nigel Watson/Drop Down Mama 3:02 T.S. Mc Phee/I've Got News for You 4:54 Clem Clempson/Nine Below Zero 3:56 Nine Below Zero/Judgement Day 3:44 The Pretty Things/Play on Little Girl/T-Bone Shuffle 6:04 Paul Jones - Otis Grand/One More Mile 5:10 Lou Martin, Mick Clarke/You Shook Me 10:21 Mick Taylor And Max Middleton

Comment: Mick's on You Shook Me (Vocal) with bandmate Max Middleton.
Anthony Thistlewaite "Crawfish & Cavier"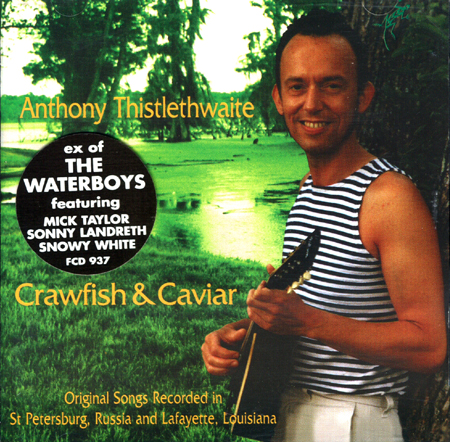 Demon Records, England, 1997
Down In Orleans 4:45/The Best Of All Things 4:05/Sunrays 5:54/Come Here To Me Now 3:25/Something Better 5:25/All The Way 4:33/Celestial Ride 5:34/Welcome To The White Nights 4:43/Embrasse Moi 5:05/The Tricky One 1:36/Dungarees 3:22/Enchanted Rock 4:57/Stella 5:36/Faoileán 1:54/Colours 7:14

Comment: Mick plays on: Something Better, All The Way, Enchanted Rock, & Colours.
Black Cat Bone "Taylormade"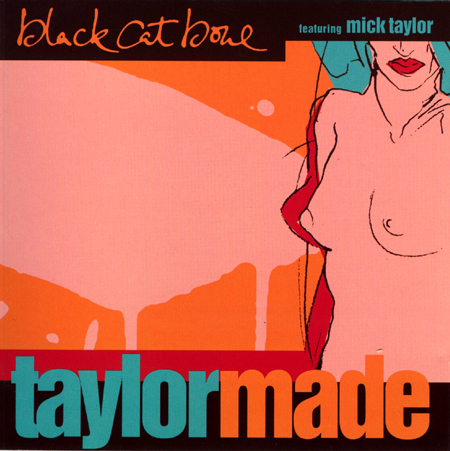 Double Dutch Records, 1997
For the most part Mick Taylor has been a busy guy since leaving the Rolling Stones in December 1974. He's done reunion tours with the Bluesbreakers, formed various bands of his own, released two solo records, and recorded as a session musician on a countless number of records. Hans-Jorg Muller is a self professed Taylor fan who caught-up with Mick on an extended stint in Europe and managed to get him into a recording session with his band Black Cat Bone. The resulting CD is called "Taylormade" and is on the Double Dutch record label (order number 99006).
Black Cat Bone are:
Hans-Jorg Muller - Vocal, guitar
Linus Wahl - Keyboards
Stephan Wegner - Bass
Uli Wagner - Drums, percussion
Guest Musicians:
Mick Taylor - Guitar, vocal
Andre Schnisa - Hammond organ
Arno Hass - Saxophone
Wake Up Call (4:14) - A great up-tempo opener for the album that begins with rich tonal lead lines by none other than Mick Taylor. Hans-Jorg on excellent vocal delivery. Taylor switches between cleanly played leads and slide guitar. This song was first recorded by Taylor on John Mayall's 1993, Bluesbreaker reunion release "Wake Up Call" on Silvertone Records (he also plays on the track Not At Home).
Ain't That I Don't Love You (3:58) - A slower blues that doesn't include Taylor. This song provides first indication of what is about to come. Muller is a first rate guitar player. As the album goes on Taylor and Muller team-up in what can only be described as a GUITAR EXTRAVAGANZA! A subtle and tasteful keyboard backs-up a funky blues rhythm that forms the basis for the track.
The Stumble (3:21) - This song was first recorded by blues great Freddy King on his album "Let's Hide Away and Dance Away". It was written by Freddy King and his piano player Sonny Thompson. It was also covered by Taylor's old band The Bluesbreakers, but with the incarnation that included Peter Green on the "A Hard Road" album. Taylor has also played the song on Bluesbreaker reunion tours, and a great version is heard on the "May I Have A Record Contract" LP/CD and "The Dark Side of Midnight" 2LP bootlegs. The studio version heard on "Taylormade" is a special treat because it has both players blazing away with guitar call and response, dual leads, and exchanging solos throughout the song. The liner notes even go to the extent of telling us that Taylor is in the left channel and Muller is in the right!
Cold Champagne (4:20) - This is an original composition again just featuring Black Cat Bone. Sort of a Jazz-Blues fusion driven by melodic riffing and lead forays into the far reaches of mode and technique. Some of the guitar lines are very Taylor-like
Blind Willie McTell (10:05) - Blind Wille McTell was born in 1898 and was blind from birth. He was a Delta bluesman who recorded a string of 51 songs between September, 1933 and July, 1936 and could play a twelve string guitar with the ease of a ukulele. In his last recording session in 1956 he even recorded a Keith Richards favorite "Salty Dog" which was originally done by Charlie Jackson. One of his "greatest hits" was an ingenious number in dropped-D tuning called "Statesboro Blues", which was also an inspiration to The Alman Brothers Band on their "At Fillmore East" record. The song Blind Wille McTell is the lost Dylan track from the "Infidels" sessions (later released on the "Bootleg" box) that included guitar work by Mick Taylor. He has been covering the song for some time now in live performances, but we have a chance to hear his vocal and guitar in the pristine confines of the studio with a capable band anticipating his every musical move. Taylor sings the words along with his guitar, sounding out the notes vocally as they come into his head and from his guitar all at once. Stinging solo breaks are interspersed between the collage of sound.
Mick's Song (6:23) - A jazz fusion instrumental that includes lead and rhythm guitar by Taylor. Arno Haas fills the song out with a soulful sax solo. Taylor is playing in the right channel with what sounds to be a Fender Stratocaster complete with "tremolo" bar effects.
Get Out Of My Life Woman (4:47) - A vocal by Muller and featuring only Black Cat Bone. There are two guitars (overdubbed) on the track, but Taylor is a no show. There is some real guitar pickin' going on here. A sax solo breaks-up the guitar groove.
Slow Blues (4:17) - Yes! The song from Taylor's 1979 effort. This time a dueling guitar version with both instruments pumping out fat, rich tone. As on the "Shadow Man" CD he is playing flawlessly, taking risks but making no mistakes.
Heart Fixin' Man (4:30) - Black Cat Bone delivers a standard blues number with flowing solos between the versus. Check out the soloing on the outro, Muller has his chops down.
"If your man don't treat you right, let me show you how I can"
"I don't care how you've been hurt, because I'm your heart fixin' man"
Mercy, Mercy (4:23) - Not the Don Covay song covered by the Rolling Stones on the 1965 release "Out of Our Heads", but a jazz influenced instrumental. Mick Taylor plays on the song Somebody's Enjoying My Home on the 1993, Don Covay Tribute CD "Back To The Streets".
Italian Summer (3:54) - Up tempo riff induced instrumental with expressive solo breaks in between cleverly placed bridges. Unfortunately, not a follow-on to the lost Bluesbreaker slide guitar track Italiano Style, played on the 1983 tour.
Blue Shadows (4:14) - A slow Chicago style blues with Muller on vocal, but it's the guitar solo that will bring you back for another listen. Classic personification of the blues . . . "You know the blues walked in this morning when my baby said good-bye"
These guys are musicians and they are able to wrap their enthusiasm around the playing of guitar hero Mick Taylor in way that is absolutely complimentary to his style and technique. This may be the best follow-on to "Mick Taylor" that we will hear until his new studio effort is released in the next few months.
Alan Merrill "Never Pet A Burning Dog"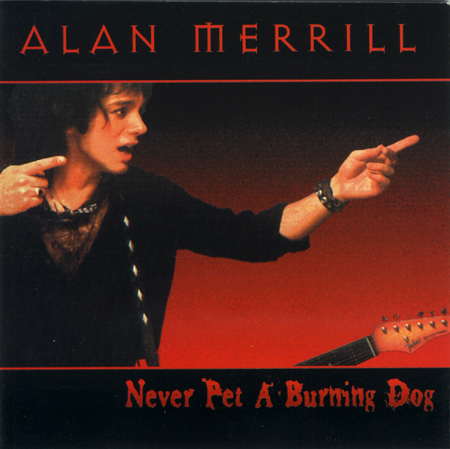 MEC Records, 1998
Love Express 3:07/She Rocks Me 2:33/Hard Hearted Woman 2:58/Keep On Comin' 3:11/Cold Cold September 5:06/Rock Me In Rhythm 3:22/N.Y City 3:58/Rain Chasing Dreams 3:34/Freeweeler 3:35/Always Another Train 3:35/One More Ride (reprise) 1:00/Rock On You 2:50

Comment: Mick plays on: Always Another Train.
Majic Ship "Songwaves Project"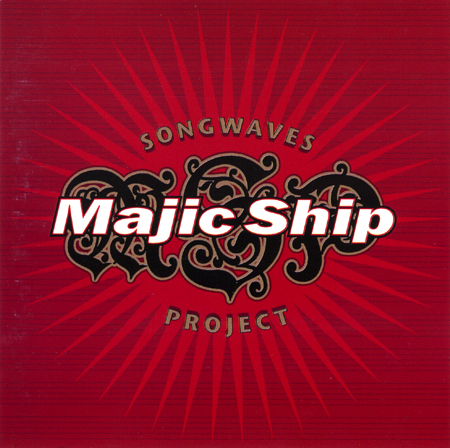 CozyBeef Music, CBM 101, 1999
Don't Tell Me 4:07/It Could Be You 2:22/Dream About Mary 3:29/Keep On Tryin' 3:19/Think About You (Remember) 3:18/Turn The Beat Back On 3:06/Images 5:19/One Night Of Love 4:20/Dressed To Kill 3:37/Love Light 3:08/Blow Me Away [Remixed] 3:44/All Revved Up 3:52/Tell Me (You're Coming Back) 4:35

Comment: Mick plays on: Tell Me.